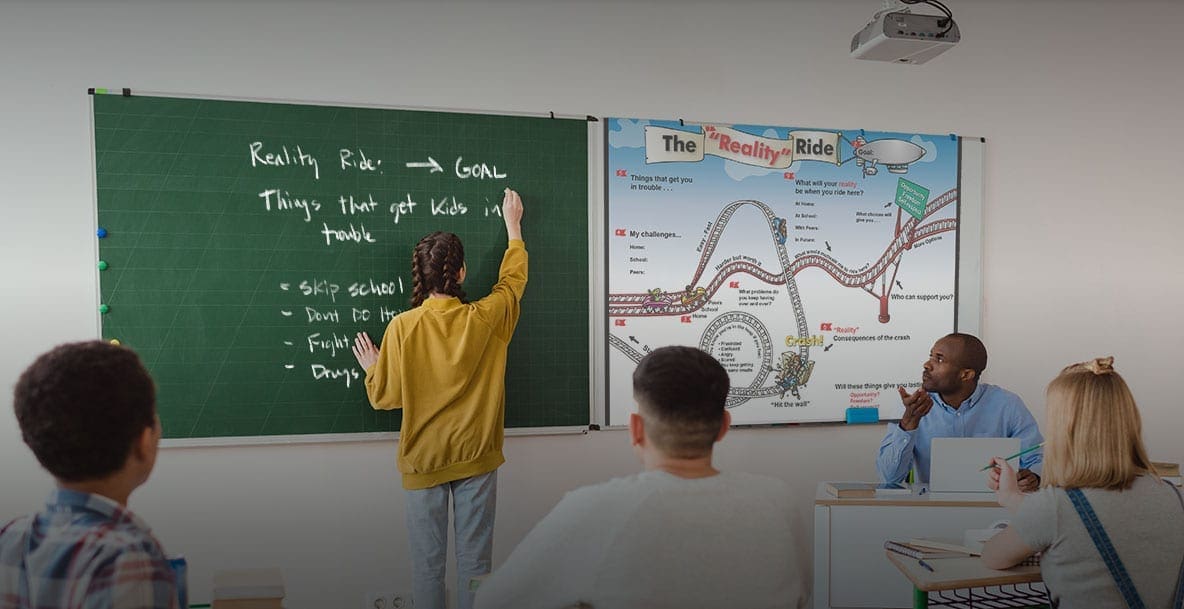 The WhyTry Program was taught in a classroom setting in 22-minute sessions.
43-year-old Brett Elliott came on as principal at one of the lowest-scoring high schools in Illinois on standardized reading, math, and science exams. Behavioral referrals amounted to a mindboggling 19,500 in the previous school year, and the number of out-of-school suspensions was also significant for a student population of only 1,600. Even worse, these were only symptoms of a bigger problem: a punitive school culture where the staff and students didn't trust each other.
Improving Standardized Test Scores
Elliott, who had been working as an assistant principal at a local middle school, was called in by the superintendent to turn things around. He took the assignment seriously, jumping into the trenches starting day 1.

It didn't take him long to figure out what was needed: a way for students and teachers to build meaningful, trusting relationships and speak a common language. What he discovered was the WhyTry Program. "It just fit hand in hand with what we wanted to do," he said.

Elliott started by putting 25 of his teachers through a WhyTry Level 1 Training, which became his on-site "train the trainer" team, taking the language of WhyTry back to the entire staff. Every Monday, advisory periods school-wide are dedicated to the WhyTry Program. These short yet meaningful periods are called "pride time" – a play on the school's lion mascot. "We make sure it's hit on often, then we'll have select days every other month with extended pride time," he explained. "Instead of 22 minutes, it's 50 minutes with in-depth team building throughout the building. We try to keep it going, keep it fresh on everyone's mind."

The district reports that Peoria High is the fastest-improving school in the city on standardized test scores*

The changes seemed small at first – besides the advisory periods, teachers be-gan incorporating WhyTry strategies like "surrendering the one-up relationship" and using music to welcome students and make transitions in the classroom. Instead of sending students away for misbehavior, teachers use the language of WhyTry to talk about what they can be doing differently.
The Impact
The small changes have made a huge difference. After Elliott's first year, referrals were reduced by 6,000. In the last school year, they were reduced by 11,400. Suspensions also dropped by 31 percent and fighting behavior dropped by half. The district reports that Peoria High is the fastest-improving school in the city on standardized test scores.
Referrals are down 58.4% since 2011
Suspensions are down 31% since 2011
Fights are down 57% since 2011
Elliott recently conducted a survey among his students to learn how the new initiatives were affecting them personally. "I was pleasantly surprised about what the kids had to say," he said. Over 90 percent of kids said they had at least one adult they could connect to. They felt they had strong relationships inside the school, and that the school was a safe environment for them.
Those types of things were very consistent," said Elliott. "We changed the culture where we wanted the school to be a safe place… The kids' attitudes have changed to letting their guard down. They know when they're here they don't have to have the chip on their shoulders."